While the semantics of the term "cyber terrorism" are still being argued, it is apparent to the FBI that Sony Pictures Entertainment has been the victim of great economic impact outside the bounds of acceptable state behavior.



And most recently on Tuesday, December 16, 2014, the "Guardians of Peace" posted a message threatening 9/11-type attacks on theaters that screen The Interview. The note was posted on Pastebin labeled "Christmas gift: Michael lynton."  Lynton is the CEO of Sony Pictures'.  The message read:
Warning

We will clearly show it to you at the very time and places "The Interview" be shown, including the premiere, how bitter fate those who seek fun in terror should be doomed to.

Soon all the world will see what an awful movie Sony Pictures Entertainment has made.

 The world will be full of fear.

Remember the 11th of September 2001.

We recommend you to keep yourself distant from the places at that time.

(If your house is nearby, you'd better leave.)

Whatever comes in the coming days is called by the greed of Sony Pictures Entertainment.

All the world will denounce the SONY.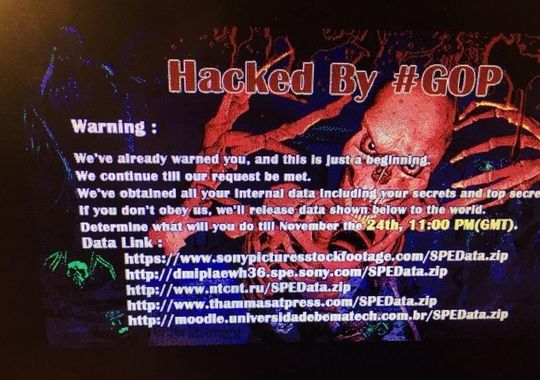 Following the threat, a number of major theater companies announced they would not show the film. The East Coast premiere of the comedy was then subsequently canceled.
Today, the FBI released a followup statement reinforcing the determination that the recent intrusion into Sony Pictures Entertainment (SPE) by a group calling itself the "Guardians of Peace" leads a trail directly to the North Korean government.  In the statement, it was noted
…The FBI takes seriously any attempt—whether through cyber-enabled means, threats of violence, or otherwise—to undermine the economic and social prosperity of our citizens…
The biggest clues are based on other previously identified malware developed by North Korean actors and the similar lines of code, encryption algorithms, data deletion methods, and infrastructure used such as IP addresses.  Some previous incidents involve last year's South Korean bank hacks in March which were identified to have been performed by the North Korean government.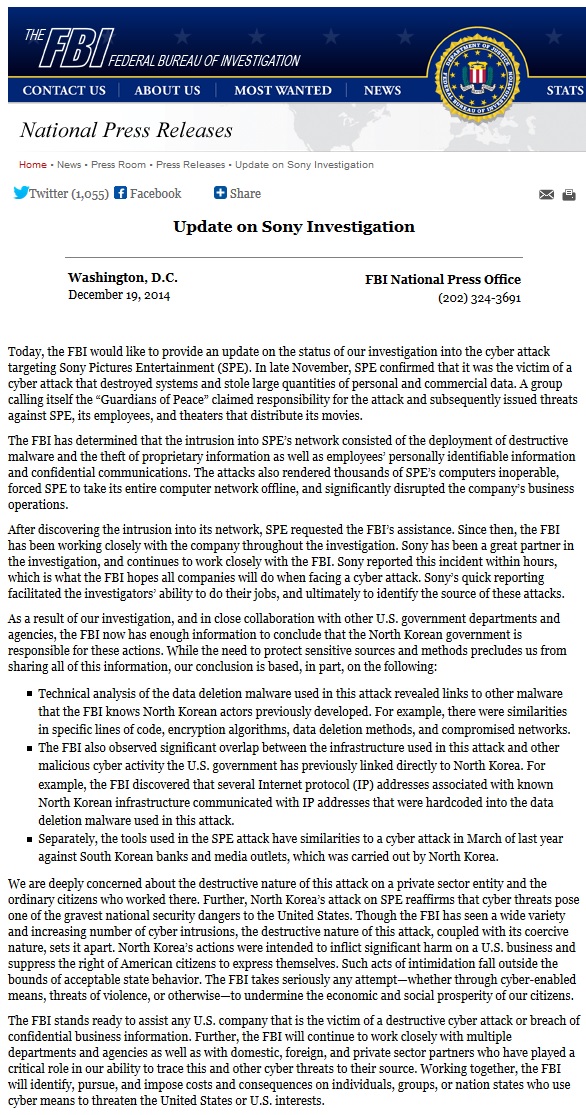 An internal Israeli Defense Forces (IDF) video of the July 8th infiltration of Zikim Beach was leaked onto YouT
ube on Wednesday, December 10th by a independent Palestinian group of journalists. The video footage is suspected to be from an unmanned aerial vehicle (drone). The video shows two armed men attempting to affix explosive ordinance to a tank. Also included with the video is audio of Israeli Navy communications with the tank crew and a nearby naval base. One piece of audio exclaims "he's on the tank, 2 o'clock" then followed by an explosion. The ordinance was later listed as a container of sodium hydroxide in watertight bags.
Since the leak, IDF Chief of Staff Lietenant General Benny Gantz has ordered a full investigation.
Target unsuccessfully tried to dismiss Plaintiff allegations that it has liability under the Minnesota's Plastic Card Security Act.
…Target contends that Plaintiffs have failed to sufficiently allege that Target owed them a duty or that Target breached any duty….although the hackers received some data directly from consumers' cards, they also retrieved other data from Target's servers. Even if Target is correct that the hackers' storage of stolen data on Target's servers does not implicate the PCSA, Plaintiffs' claims undoubtedly state a PCSA violation. The Motion to Dismiss this Count must be denied…" -Paul A. Magnuson, United States District Court Judge, December 2, 2014